TRILOR® Disks
DISCS IN HI-TECH MATERIAL FOR DENTAL PROSTHESIS WITHOUT METAL
Trilor® is the most innovative material of the market for dental prosthesis.
Trilor, developed by Bioloren, is a new generation polymer composed of a (thermoset) resin and multi-directional fiber glass reinforcement. FRC (Fiber Reinforced Composite) are materials used in airplanes and other sectors where the high resistance and low weight are essential requirements.
The multi-directional braided fiber structure offers good performance in terms of load and tension distribution in response to forces applied from different angles making it an ideal material for permanent and temporary dental restorations.
Resistant
With significantly higher flexural strength compared to other metal free materials.
Trilor is a very resilient material.
As a result of the 5-year chewing tests (1,200,000 cycles) intact and suitable for use as permanent material
Flexural strenght
| Trilor | 540 MPa |
| --- | --- |
| Carbon fibre | 250 MPa |
| Peek | 150 MPa |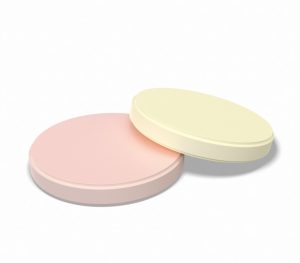 Elastic
Trilor ® is a material with an elasticity close to that of dentin
Trilor ensures perfect mechanical compatibility with both biological and synthetic materials with which it interacts.
The excellent adhesion between the fibers and the matrix, combined with a great surface contact, allows the dispersion of occlusal forces through the structure of the matrix itself.
LIGHT
Trilor® is extremely light, 3 to 5 times lighter than cobalt-chrome or zirconia frameworks.
For this reason it is extremely more comfortable for the patient, especially on extended prostheses, and does not stress the mucous membranes
BIOCOMPATIBILE
Trilor® is extremely biocompatible, respecting the highest international safety standards.
The metal free Trilor structure is free from bimetallism and equipped with a technology capable of minimizing the absorption of liquids resulting insoluble in the oral environment.
Trilor structures are chemically stable and free from corrosion and oxidation.
EASY PROCESSING AND REPAIR
Trilor®, being neither melted nor sintered, always maintains its size and is processed 1: 1.
Being a glass-polymer it binds directly with aesthetic materials and can be repaired directly in the studio with composite materials.
Ivory-white in color, it is a highly aesthetic camouflage material and does not require opacification.
Trilor saves a lot of time
Indications for use
Fixed prosthesis:
✔ Hoods and bridges both front and rear
✔ Telescopic crowns (primary and secondary)
✔ Bridges for permanent and provisional restorations, cemented and non-cemented (screwed)
✔ Adhesive fastening systems both lingual and palatal (ex: Maryland)
Removable prosthesis on implants:
✔ Reinforcing bars for screwed removable dentures
✔ Toronto bars
✔ Screwed sub-structures and coupling superstructures
Partial removable dentures:
✔ Reinforcement structures (nets and plates)
Orthodontics:
✔ Adhesive fixing elements
✔ Anchoring structure for adhesive fixed orthodontics
✔ Connection frames (orthodontic with bone screws)
✔ Orthodontic retainer
Trilor framework can be designed using the most famous CAD software
Trilor can be milled with most wet and air cooling CAM machines on the market
Trilor can be coated using different materials:
✔ composite
✔ zirconia
✔ nanoceramics (Crystal Ultra)
✔ Lithium disilicate
✔ PMMA acrilylic
✔ Feldspatic ceramic
✔ artificial teeth
✔ veneers
Trilor disk is available in 2 shapes and 2 colors (white or pink)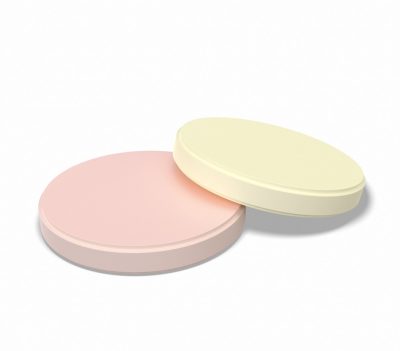 Diameter 98 mm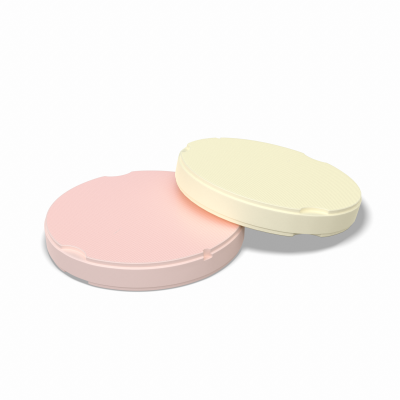 Diameter 95 mm
TRILOR® DISC PINK
Trilor® Pink allows dentists or technicians to solve some prosthetic or clinical needs.
The absence of opaquer allows to avoid the overlapping of multiple materials in the most critical and thin areas of the connections, saving time, space and material used.
The pink color chosen by Bioloren is soft and stable; it is a basic color that is very close to the color of the gum
TRILOR – ø 98 mm  White ivory
| | |
| --- | --- |
| code |  Description |
| FD S 10 | Trilor disc 98×10 mm |
| FD S 12 | Trilor disc 98×12 mm |
| FD S 14 | Trilor disc 98×14 mm |
| FD S 16 | Trilor disc 98×16 mm |
| FD S 18 | Trilor disc 98×18 mm |
| FD S 20 | Trilor disc 98×20 mm |
| FD S 25 | Trilor disc 98×25 mm |
TRILOR  – ø 98 mm  Pink
| | |
| --- | --- |
| FD S 14 PK | Trilor disc 98×14 mm Pink |
| FD S 16 PK | Trilor disc 98×16 mm Pink |
| FD S 20 PK | Trilor disc 98×20 mm Pink |

TRILOR – ø 95 mm  white ivory
| | |
| --- | --- |
|  Code | Description  |
| FD Z 14 | Trilor disc 95x 14 mm ZH |
| FD Z 16 | Trilor disc 95x 16 mm ZH |
| FD Z 18 | Trilor disc 95x 18 mm ZH |
| FD Z 20 | Trilor disc 95x 20 mm ZH |
| FD Z 25 | Trilor disc 95x 25 mm ZH |