TRILOR® Arches
PRE-SHAPED ARCHES IN HI-TECH MATERIAL FOR DENTAL PROSTHESIS
Trilor® Arch, developed by Bioloren, is an arch made of a new techno-polymer made of a
resin matrix and a multi-direction reinforcement of fiberglass.
Trilor® belongs to the FRC (Fiber reinforced composites) family that have been revolutionizing the sector of dental prostheses.
Last generation of complex polymers like Trilor®, are a valid alternative to metal as substructures and mesostructures in implatology because they permit to simplify protocols and high performances.
Trilor® Arch, through a bench processing with tungsten drills, can be transformed in a permanent
or temporary substructure for full arch or small bridges.
Trilor® Arch is the cheapest (no milling machine), fastest and easiest (less than 30 minutes to prepare the framework to cover) solution for a permanent full arch prosthesis.
Trilor® Arch is ideal for immediate loading on implants
Trilor owns the European CE, FDA USA, ANVISA Brazil, Health Canada and so on as permanent prosthetic material.
Is available in 2 different colors (white ivory and pink) and 3 heights (3.5, 5,5 and 7,5 mm)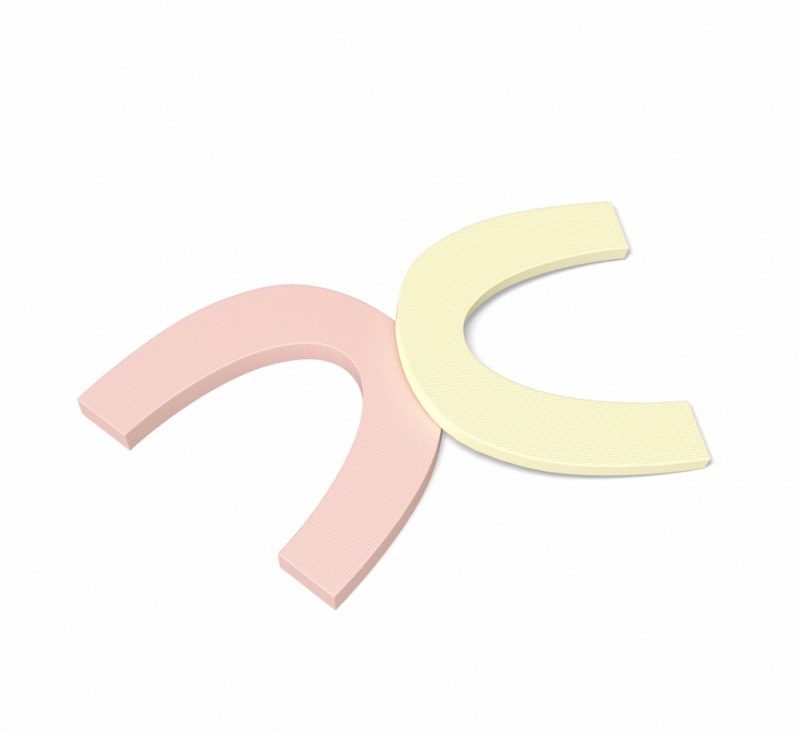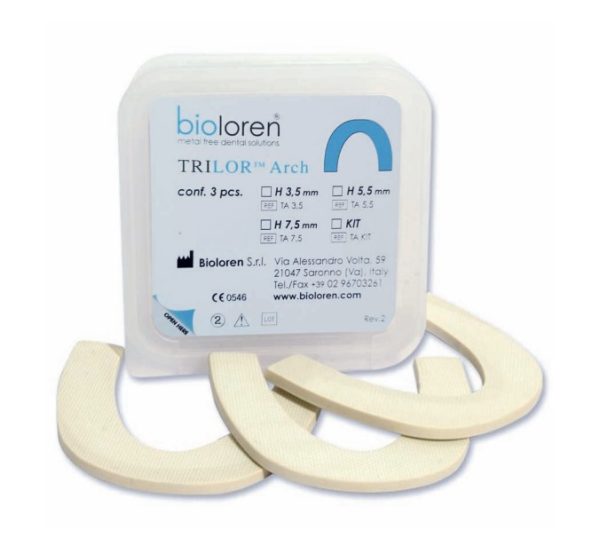 H 3,5 mm
Provisional or definitive immediate loading. It cannot be modified in thickness, but in width only. Ideal for solidarization of total provisional prostheses.
H 5,5 mm
The most used and the most versatile
H 7,5 mm
With its thickness is able to compensate any unevenness of vertical positioning of the implants. It is possible to make thimbles.
Indications for use
✔ Reinforcement bar on implants for immediate or deferred loads
✔ Support for immediate bridges
✔ Toronto structures
✔ Removable, partial or total prostheses with attachments
✔ Full arches
✔ Transfer key of the exact position of the implants
TRILOR® ARCH PINK
Trilor® Arch Pink allows dentists or technicians to solve some prosthetic or clinical needs,The absence of opaquer allows to avoid the overlapping of multiple materials in the most critical and thin areas of the connections, saving time, space and material used.
The pink color chosen by Bioloren is soft and stable; it is a basic color that is very close to the color of the gum.
TRILOR KIT INTRO ARCH
Trilor kit intro arch contains 2 arches 5,5 mm and 1 URC cement of 7 grams. These items are what is necessary to create a framework, all the other things like micromotors and carbide drills are provided by dentists or technicians.