Trilor Disc
TRILOR Disk is an element of the CAD/CAM system
Fiberglass disc with a special weave and epoxy resin that offers high performance.
Trilor Disk is the ideal material for building complete substructures and arches.
Permanent.
Packaging: single plastic box.
Description
The solution for metal-free dentistry.
DURABLE
With significantly superior flexural resistance compared to other metal free materials, Trilor® is a very resilient material.
Trilor® is a permanent material having passed the fatigue test (1,200,000 cycles) equal to about 5 years of chewing.
Flexural resistance
| | |
| --- | --- |
| Trilor | 540 MPa |
| Carbon fiber | 250 MPa |
| Peek | 150 MPa |
ELASTIC
Trilor® is a material with an elasticity close to that of dentine.
Trilor® ensures perfect mechanical compatibility with both biological and synthetic materials with which it interacts.
The excellent adhesion between the fibers and the matrix, combined with a large surface contact, allows the dispersion of the occlusal forces through the structure of the matrix itself.
Modulus of elasticity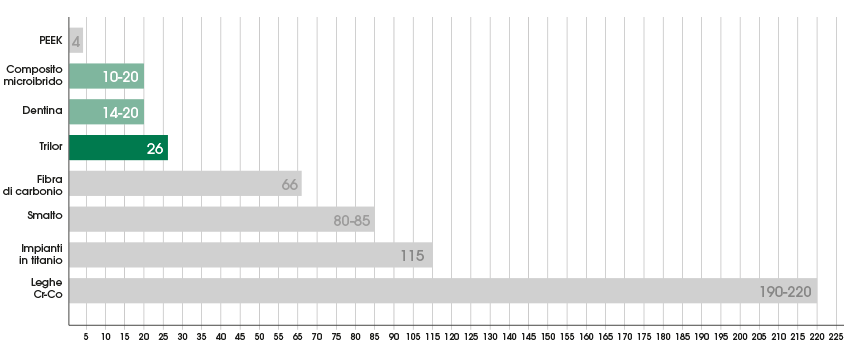 LIGHT
Trilor® is extremely light, 3 to 5 times lighter than chromium-cobalt or zirconia structures.
For this reason it is much more comfortable for the patient, especially on extended prostheses, and does not stress mucous.
BIOCOMPATIBLE
Trilor® is extremely biocompatible, respecting the highest international safety standards.
The metal free Trilor structure is exempt from bimetallism.It is equipped with a technology that minimizes the absorption of liquids and is insoluble in the oral environment.
The structure is chemically stable and free of corrosion and oxidation.
Biocompatibility Test
| Test | Regulations | Result |
| --- | --- | --- |
| Genotoxicity and Cancerogencity | ISO 10993-3 and cert. Japanese | Negative |
| Cytotoxicity | ISO 10993-5:2009 and 10993-5:2000 | Negative |
| Acute systemic toxicity | ISO 10993-11:2006 | Negative |
| Delayed hypersensitivity | ISO 10993-10:2010 | Negative |
| Irritation | ISO 10993-10:2010 | Negative |
| Solubility | ISO 10477-2009 | Insoluble |
| Chromatic stability at 37 degrees C for 48 hours in saline solution (artificial saliva) | Bioloren internal Test | Stable |
EASY TO WORK AND REPAIR
Trilor®, being neither melted nor sintered, always maintains its size and you work 1:1.
Being a glass-polymer binds directly with aesthetic materials and can be repaired directly in the studio with composite materials.
It is white-ivory, it is a camouflage material, highly aesthetic and does not require opacity.
Overall, it saves a lot of time.
THE PRODUCT
Trilor®, developed by Bioloren, is a new technopolymer consisting of a thermo-hardening resin and a multidirectional reinforcement of fiberglass.
FrC composites (Fiber-Reinforced- Composites) are materials used in racing cars, airplanes and many other fields where the demand for high toughness, low weight and great resistance to effort are essential needs.
The structure of Trilor® reproduces that of the fabric, in a multidirectional configuration, to offer the best performance.
The matrix/fiber interface is the most critical point of composite structures.
Thanks to an extremely precise and reliable industrial production method, Trilor® offers a level of adhesion between the fibers and the resin matrix, which greatly amplifies the technological characteristics of the material.
Physical properties
| | |
| --- | --- |
| Traction resistance | 380 MPa |
| Flexural resistance | 540 MPa |
| Stretching in traction | 2% |
| Flexural modulus | 26 GPa |
| Traction modulus | 26 GPa |
| Compression resistance (perpendicular) | 530 MPa |
| Impact Resistance (Charpy Test) | 300 KJ/cm2 |
| Rockwell hardness (scale R) | 111 HRR |
| Barcol Hardness | 70 |
| Shore D hardness. | 90 |
| Density | 1,8 g/cm3 |
TRILOR® APPLICATIONS
Fixed Prostheses:
Both front and rear caps and bridges.
Telescopic crowns (primary and secondary)
Bridges for both permanent and temporary restorations, cemented and not cemented (screwed)
• Lingual and palatal adhesive fasteners (e.g. Maryland)
Removable prostheses on implants:
• Reinforcement bars for screwed removable prostheses
• Toronto bars
• Screwed substructures and mate superstructures
Partial removable prostheses:
• Reinforcement structures (nets and plates)
Orthodontics:
• Adhesive fasteners
• Anchor structures for adhesive fixed orthodontics
• Connection canvases (orthodontics with bony screws)
• Orthodontic retainers